With the increase of technology Audio Conference system is the need of hour and we are here with most appropriate equipment that provides the best output in order to deliver your speech in a crystal clear way. We provide you the solution to have more successful meetings and conferences. If you don't know what could be the best and high-quality phone for your Audio Conference equipment, don't fret! we are here at your service.
Audio conference solutions is a need of hour at this time in Pakistan. We provide different solutions for the audio conferencing & video conferencing solutions in Pakistan. You should use a good quality audio and visual conference equipment for having conferences and meetings. This helps to experience the best audio from the other participants present in the meeting.
Audio Conference System In Pakistan
Audio conference calls is a cost-effective way that bring people together besides email and chat. The lockdown has made it even compulsory to communicate with the employees using audio conference meeting solutions. Audio conference system comes with a wide range of prices in Pakistan.
We offer professional class with HD Audio Conferencing Solution with speakers, display, and microphones in the range of Rs 50000-200000. According to the features and brand, prices may vary. We have listed some of audio conferencing equipment below.
– Philips CSS800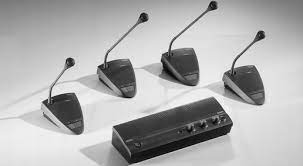 The Philips CSS800 conference system is versatile in its function and it is economically good. This system consists of a chairman unit, central control unit, delegate unit, and wireless distribution system. It is very convenient to use. Anybody can use and operate it easily. The attractive and unique design of Philips css800 makes it an attention seeker in the market. Above all, it's easier to install and you can do it by yourself.
– Rest moment RX-D2700 XP conferencing system: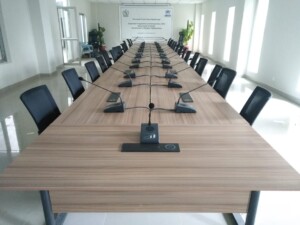 Dynamic range: 92dB
SNR: 90dB
Working power: 24DC, -5%
This delicate conferencing system is designed nicely. The unique microphones are fixed with a hyper cardioid condenser which has red light on the top as an on and off sign. The shape is unique and compact as well. It occupies a little space. Different kind of mode makes this system exceptional which is limited Mode, FIFO mode, free discussion mode, Apply Mode, 5 MIC working mode and Voice activating mode.
We provide audio conferencing solutions according to the requirements, If you want a custom solution and installation of audio conference equipment in Islamabad, Lahore, Karachi and peshawar, you can contact us.
Looking for a solution of your auditorium or hall ?
– HTDZ Delegate Mic 350D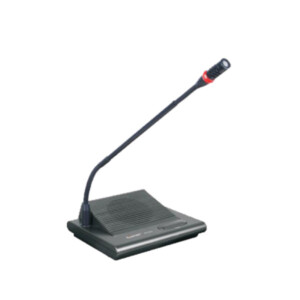 Frequency: 40-16000Hz
Sensitivity: -42 ± 2dB
Distance: 20-120cm
HTDZ Delegate Mic provides the exclusive design and best functions. The loudspeaker of 1W helps to maintain volume and there is a red LED light over the MIC that works as an on and off indication. It comes with 1-year Warranty and 20-120cm sound receiving distance make it superior to others.
– Bosch Delegate MIC CCS1000D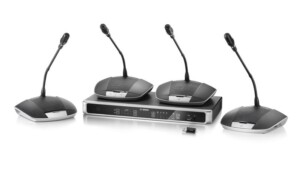 The easy-to-operate and easy to install functionalities make it prioritize over others. The flexible stem and small microphone having a shield, phone interference Immunity, indicators, volume controller, large and touch button, compact size, and plug-and-play functionalities are the best parts of this system.
– Bosch Delegate Mic Dicentis Wireless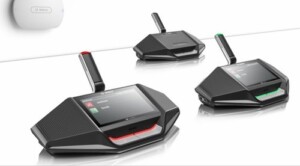 Frequency: 30Hz to 20 KHz
Dimension: 61× 190 ×160mm
Mounting: Tabletop
The delicate shape and compact size makes it unique and exclusive. You don't need to press any button to turn on/off again and again because it has auto search capability for your network and auto turn off when the network is not in reach.
– Restmoment RX-2200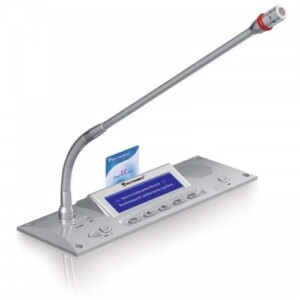 This product is worldwide famous and is available in Pakistan as well. This system is implanted at 200 locations in Pakistan which includes many government and private departments of Pakistan. It is embedded and exclusive design, transmitting up to 64CH, Graphic LCD. These are some specifications of Restmoment RX-2200.
– Restmoment RX-3500 Digital series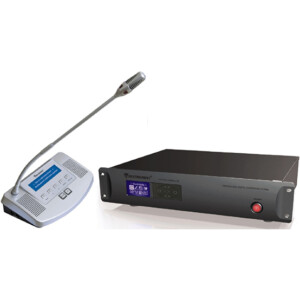 This system consists of three basic components like other audio conferencing systems. It has dual functions for using in conferencing and also used for connecting the video conferencing to make the voice stable and clear.
– Restmoment RX-3100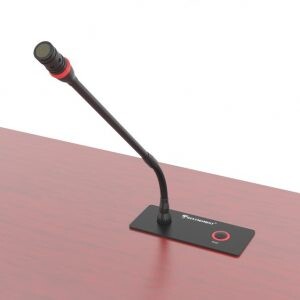 The restmoment Model RX-3100 is perfect to maintain the aesthetics of the conference room or hall furthermore, the nonvisual wiring creates the best look of the conference room and conference table as well. Because of the flexibility and long stem of the microphone, the speaker doesn't have to lean over the microphone and feel comfortable speaking.
TOA Model: EM380
Frequency: 50Hz to 16000 Hz
Weight: 550g without batteries
Dimensions: 145 × 110 × 532 mm
This system is designed for small areas like lecture rooms, mosques, or any other worship places. Plug-and-play microphone of this system makes it very convenient to use and easy to install too.
Also Check Barcode Scanner Solutions
– HTDZ model HT-38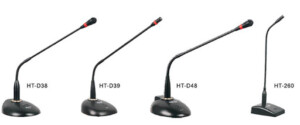 Frequency: 40Hz to 16000Hz
Sensitivity: -40dB
Microphone length: 445 mm
The gooseneck microphone looks aesthetic when equipped over the table. The shielded microphone has a long and flexible stem which enables the speaker to address in its comfort zone.
– SGDR Conference Mics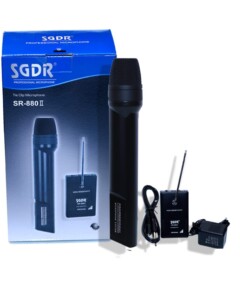 This brand provides microphones for schools and college events for speeches moreover they have a wire attached to the microphone. And the portable feature makes them unique. We can connect the microphone with any amplifier for you. The warranty of products of this brand is 1-year.
– Bardl TC-1200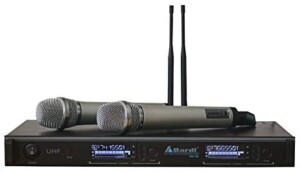 These microphones are without wire and with wire. These microphones are portable, which can be connected to any sound system. There is an on and off switch on the side of the microphone and a red LED as an indicator.
With the advancement of technology, most people work from remote areas. Therefore there is a demand for conference room audio video solutions. The modern system enables every individual to engage in every aspect of the meeting. By using these solutions, you can easily control different features of meeting.
Long story short, we come up with the high-tech equipment including microphones and speakers. This enables you to hear easily. A high-quality equipment takes your meeting to the next level in terms of clarity and connectivity. Together, all components play an important role in high-quality audio and video conference. This whole system works marvelously with zoom, Microsoft Teams, and Skype.
We provide best Audio Conference System in Pakistan with unique set of characteristics over the conventional system. This compels you to place it in your conference room. The solution comes up with high audio, low cost, additional tools. This system is compatible with all types of the organization due to its design, conference room audiovisual solutions. Our services include many functions such as conference information uploading, voting, electronic keyboard, conference video transmission, and records.
Also Check Video Conferencing Solutions
Final Verdict
Over the years we have provided many solutions to companies and departments onto different levels. We have many happy clients all over Pakistan. If you are looking for audio conference system in Islamabad, Lahore, Karachi or in any city of Pakistan, please feel free to contact us. Tell us your requirement and we will get back to you with a best possible solution.