Are you looking for Interactive Touch Screen In Pakistan ? We provide all kind of Interactive touch screens in Islamabad Lahore & Karachi. Interactive touch screen price in Pakistan varies from model to model and according to requirements. You can contact us for exact prices. Below are the few models you can check.
Interactive Touch LED Panel In Islamabad Lahore Karachi Faisalabad
Interactive flat panel is a multiple-touch led display. It comes with touch screen technology. Above all, it promotes learning and knowledge exchange. As a result, it allows interactive connectivity for team learning. So, keep learning and use these as displays in the classroom and in the workplace.
Interactive LED Screen 65" 75″ 86″
Bezel made of painted aluminum alloy with humanized arc angles
The surface of the tempered glass panel is 4 mm thick.
It is durable. 
It has anti-scratch, anti-glare, and anti-reflection properties.
With rich and vibrant colors and vivid images, the high-definition LED show creates a fantastic immersive experience.
LED backlights with long service life and consistent results
Subwoofer sound effect with stereo soundtrack speakers
Firstly, this is conveniently accessible in Pakistan. Moreover, it enables 10 or 20 users to collaborate and communicate with each other at the same time.
Are You Looking for Interactive Touch Panel ?
Hence, the 65-inch UHD interactive LED panel ensures plug-and-play compatibility. At the same time, it offers a broad array of features and capabilities.
Interactive LED Screen 65" 75″ 86″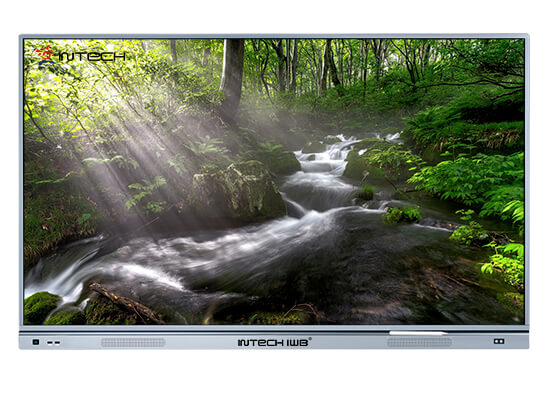 More Free Interaction with a Multi-Touch Surface
Moreover, it offers a style that is both smart and simple to maintain.
Configuration for smartphones and tablets
Plug-and-play capability
Anti-light-interference technology is a type of anti-light-interference technology
For small to medium classrooms.  Importantly, this is a wall-mountable "ALL IN ONE" Intel Core-i5 device with a 65″-75″-86″ monitor display screen.
So, 20-point multi-touch and 4K resolution are among the revolutionary features of this elegantly built device.
Also Check Video Conferencing Solution
In conclusion, these features allow the "ALL in ONE" device to promote intuitive communication between the teacher and students. Additionally, it increases interactivity.
Interactive Touch Screen Price In Pakistan
In Pakistan, the cost of interactive flat panels/touchscreen led could range from 400,000 to 1500000 Pakistani rupees. However, it can differ from one brand to the next and be dependent on features and sizes.
Sizes of Interactive Flat Panels/ Touch Screen LEDs that are readily accessible
Flat interactive panels are available in sizes of 55", 65", 75", 86", and 98". Although, the most common sizes, however, are 65" to 86-inches.
Interactive Flat Panels/ Touch Screen LEDs run on what operating system?
Most Interactive Flat Panels/Touchscreen LEDs come with a dual operating system: Android built-in and Windows that can be installed on an OPS Slot.
Interactive Touch Screen 75"
With a 75-inch screen size and a 20-point multi-touch interactive LED touch panel, the 4K Ultra high definition (UHD) resolution is excellent.
The bezel is made of painted aluminum alloy with humanized arc angles.
Additionally, E-share allows you to share your screen wirelessly with up to four users at the same time.
Interactive led screen with anti-scratch, anti-glare, and anti-reflective properties.
Smart brightness is a function.
Instead of a traditional tray, a magnetic pen attachment is used.
This helps 10 or 20 users to collaborate and communicate with each other at the same time. So, the combination of an extremely simple plug-and-play setup and a wide range of presentation features is too productive. 
Not only this, it offers wireless screen sharing, writing apps, and annotation features to ensure state-of-the-art demonstration in your conference room or classroom.
Accessories that come with Interactive Flat Panels/ Touch Screen LED
Flat Interactive Screens are most common.  Annotation software, whiteboard software, office software, remote monitoring software,
wireless display software, and other integrated Android and Windows software are included with the interactive touchscreen LED.
Interactive Flat Panel/Touch Screen Warranty
The normal warranty for Interactive Flat Panels/ Touchscreen LED is usually 2 to 3 years.
If you want Interactive LED Touch Screen In Islamabad Lahore or Karachi, you can Contact Us