Are you looking for video conferencing solutions available in Pakistan. Our company offers a wide range of video conferencing equipment in Pakistan. As the technology is growing in this era, it gets difficult to find the best products with the increase of brands in the market.
Since video conferencing solutions are provided according to the requirement of the clients, we are here to provide our video conferencing solutions in Pakistan which includes Islamabad, Karachi, Lahore and Peshawar.
Video Conference System Price In Pakistan
Moreover these are some products of video conferencing equipment which are trending these days.
Aver EVC 150 point to Point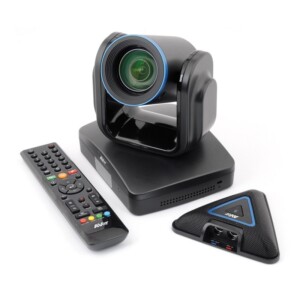 One Touch Recording
14X Total Zoom
100 Camera Presets
FHD content sharing
The EVC150 is the video conferencing market's price-to-performance pioneer, providing budget-friendly FHD video conferencing solution to small and medium-sized businesses. It includes a PTZ camera, a mic array, a sleek UI, and a lightweight device design, as well as real-time full HD video streaming and HD 720p video streaming. It arrives with a 3-year warranty and a relatively low overall ownership costs, resulting in an incredible payoff. This is the main platform for savvy VC users, whether for point-to-point video conferences, cloud-based sharing, or device systems engineering.
Aver EVC 250 Multi Point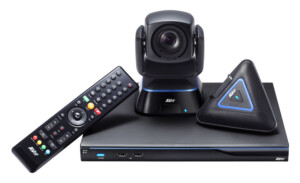 Built-in meeting server
HDMI
Full HD 1080P
14X Total Zoom
It includes Smart Frame, which maximizes the available to view area with a single-click approach that brings everybody in frame rapidly and flawlessly There are no more complicated configurations or time consuming controls. Moreover the EVC170's superior 18X max zoom brings conferencing to another level of clarity. With the EVC170's quick, fast, and effective video communication functionality, you can maximize your team's teamwork. Furthermore the EVC170 has a built-in server and facilitates NAT Traversal, SIP Registrar, and Meeting ID for full SIP, H.323, and WebRTC functionality, giving users a variety of simple-to-use communication options.
Always keep in mind that there are technologies that which allow you to link your video conferencing equipment to any browser, PSTN, iOS, Skype for Business, and record your meetings through cloud teleconferencing. Being the leading video conferencing solution provider company in Pakistan, we have a huge market share and continue to be the undistributed leader in the video conferencing optimal solution.
Looking for a solution of your Conference Room ?
Aver VC520 Pro USB Base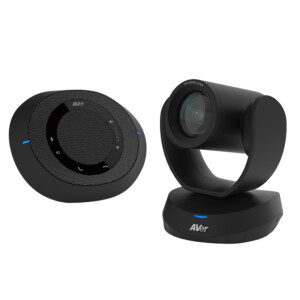 Full HD 1080p
Sony True WDR
18X zoom
Expansion Speakers / Microphones
The VC520 Pro features a 12X optical zoom lens and a daisy-chain speakerphone for a realistic multimedia view. The VC520 Pro is the advanced unified communication device with 1080p HD resolution, Sony True WDR, and IP-based media integration. With an integrated Microsoft Teams button and LED monitor, this unique edition of the VC520 Pro speaker allow you to start consultations right away. To join a conference or check the availability of a call, simply press the button. The 2-expansion microphone that work with this limited edition device also have an always clear sound system.
Also Check Audio Conferencing Solutions
Aver 340+ USB Base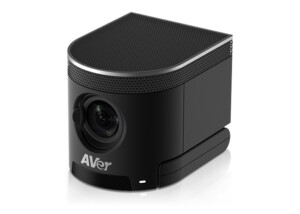 Sony 4k
USB 3.1
Plug & Play
Premium Quality
With a high-quality multi-glass lens with primary emphasis and a stunning 120° FOV, you can have ultra-wide field of vision video conferencing in your conference room. With minimal modification, fit everybody at the table and the entire chalkboard into your meeting. There will be no more inconvenient room configurations! It scans the space with no working components and no loss of quality, as if it were a conventional optical camera with 4X zoom. For ultimate video conferencing ease, the CAM340+ is a fully portable solution. It gives users the versatility to transform any room into a huddle room thanks to its flexible monitor install, easy-to-carry scale, and robust design.
Aver 342+ USB Base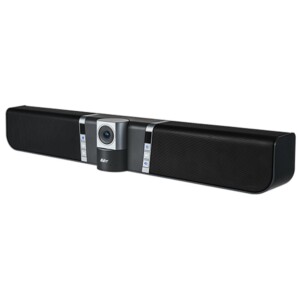 Powerful Bass for HD Voice
180° Viewable Area
12' Voice Pick Up
Plug-N-Play
The VB342+ is a cost-effective USB sound bar designed to provide a superior interactive media performance in huddle centers and tiny meeting rooms. Smart Speaker tracking from Aver identifies your exact position in the venue, slicing through ambient noise to distinctly select up your voice. Smart Speaker presets let you execute your speech perfectly while keeping the video call going. WDR is a technique for controlling light intensity in high-contrast areas and resulting in perfectly clear photos. With the VB342+, you no longer concerned about difficult light levels; you could now hold your conference in any lighting.
Video Conferencing Solutions Islamabad Lahore Karachi
Tenveo VA200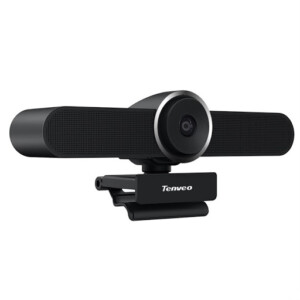 1/2.7 CMOS sensor (OV2710)
2.2mm lens
124 Degree ultra-wide field of view
The Tenveo VA200 Pro is a Conference Cam that is ideal for Huddle Rooms and Small Meeting Rooms. Optical lens delivers exceptional video quality at 1080P/30FPS, enhancing face-to-face communication. Embedded audio is designed specifically for limited settings and provides a superior sound quality. The omni-directional mic and speaker contribute to the sound being as good as it looks. With a lightweight design, USB plug and play functionality, and compatibility with any video conferencing technology system and online provider, this device is easy to use.
In such intense and socioeconomic times, one of the most challenging tasks for any academic institution is to raise attendance. We, on the other hand, had delivered state-of-the-art differentiated instruction, online training and webinar solutions to thousands of academic institutions in Pakistan at a low cost. What we've seen is that as more public universities and classrooms embrace video conferencing technologies and develop distance education services, they've seen an increase in registration.
Tenveo VA2000
Dimension: 151.64mm×131.25mm×154.5mm (L×W×H)
1/2.7 inch HD Color CMOS
3x optical zoom
For moderate to broad rooms, a full audio/video conferencing community is available: HD video camera, speakerphone, and expansion mics are all available. Up to 25 people can be accommodated at a time. 10 m extension (33 ft). For medium to wide group meetings, the audio range and 90-degree field of view are ideal. High-end speakerphone with extension microphones: All at the conference table can hear and be heard clearly thanks to plug-and-play HD audio. Video conferencing that is simple and effective: Choose a video conferencing app and start video meetings with a plug-and-play USB link to a laptop.
Tenveo VA3000
Incredible image and sound quality
1080 px image quality
90º horizontal angle
Spectacular 360º sound
Since a good camera and speakers is difficult to come by. We've put together a fantastic video conferencing package that will support you in every situation, from business relies to conferences. If we focus on its frame, we found a model with a 1080 pixel image quality. It is one of the most impressive image qualities available today. This model also features a 10x zoom, allowing you to stay focused on whatever you need at any and all times. It comes with a horizontal angle of 900, will allow you to be seen exactly as you are, as a terrific player who needs to work from home while maintaining full efficiency
If you want to have a stable video conferencing solution that isn't reliant on the cloud or public IP addresses, our company offers a good video conference engineering solutions from several reputed brands to meet your needs. So, if you're looking for a video conferencing solutions in Pakistan, or other video conferencing solutions in Lahore, Islamabad, Karachi and Peshawar. We are the best video conferencing solutions provider for you.
If you want to contact us or want us to get back to you please follow the button below or contact us on our given number.