Looking for a high-capacity facility or podium with sound system in Pakistan? We provide professional podiums for schools, colleges, universities and different departments across Pakistan including Islamabad, Lahore & Karachi. We have podium solutions that can accommodate large crowds and have clear audio quality. Our podiums can be used indoors or outdoors. And they come with a variety of audio-visual plans to meet almost any specific venue or audience size.
Firstly, these talking stands provide a range of audio options. For instance, amplifiers, receivers, speakers, and controlled wired or wireless microphones come within. Above that, it works best for discussing large crowds in auditoriums, or other public spaces.
Therefore, a commercial-grade podium with sound systems is available in a variety of finishes. We own it in wood and polyethylene materials.
Podium With Speaker In Pakistan
Simple speaking or presentation stands with an integrated mic and speaker. However, comes with complete audio setups including receivers, transmitters, and speakers are available.
Also, there are several different podiums with microphone modes to choose from. An interior and exterior rostrum with sound systems, from standard wired models that mount securely to the reading stand is available.
You can too have your hands on mobile digital variants that allow podium with speakers to travel about at their leisure.
Different Types of Public Address Podiums
Light oak, medium oak, walnut, and red mahogany are the four melamine laminate finishes available. Have podiums with sound systems for interior use.
Above all, with pneumatic dial control, lecterns with adjustable columns can rise from 38 to 44 inches in height.
In addition to this, fully integrated control panels are available. It allows easy access to AV speaking stands.
Choose from microphones that can be held in your hand or attached to a gooseneck, or go wireless with lapel and headset mics for complete cordless freedom.
Not only this, weatherproof polyethylene exterior presentation stands have decorative front panels. You can too match and contrast according to your needs.
Here is a model of podium with sound system, this is just a sample model, we provide solutions according to the requirement of client.
ITC T6236 with wireless Mics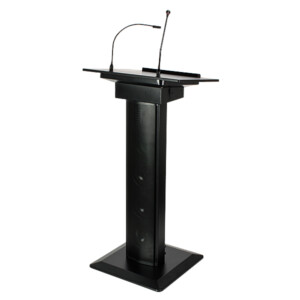 One gooseneck podium with microphone
One lamp with a rated power output of 60W, one aux input
Two MIC inputs, one-line output, and one REC output
This series Lectern is a beautiful public address podium. A one-piece design you must own. Moreover, it has a 60-watt amplifier and a 60-watt column speaker. It too has one tweeter and three woofers built-in.
Looking for a solution of Podium ?
Above all, a gooseneck microphone with a flexible gooseneck and a lamp come with it. It is very capacious. Thanks to a variety of input and output connections.
Steel body; gooseneck MIC length: 47cm; lamp length: 45cm; available in white or black finish. Also, wooden top and steel bottom; steel body; gooseneck MIC length: 47cm; lamp length: 45cm.
Podium With Sound System Solutions In Islamabad Lahore Karachi
Our firm is famous for its revolutionary products. Perhaps one of the most valuable and revolutionary is the full rostrum Public Address System. Moreover, it's a complete audio system showing deep integration into a sleek and stylish podium.
Also, we are happy to present the most intricately crafted, adaptable podium/rostrum. With a built-in complete public address system and wireless earpiece for question/answer (optional). Also, it is adequate to cater to all audiences in a symposium room, classrooms, or auditorium.
In addition to this, it's a plug-and-play system that doesn't require any cabling or speaker setup. The ITC- Audio Lectern amplifier is a stylish public speaking podium with a one-of-a-kind design.
However, it has a built-in amplifier with a speaker output power of 60 watts, a sensitive mic, and an LED base reading light. We no longer need traditional rostrums with a tangle of cables for various microphones thanks to this breakthrough.
In conclusion. we aim to link with the world in ways that are both environmentally friendly and ethically sound. We provide you with a reasonable rostrum price in Pakistan.
Also Check Public Address System